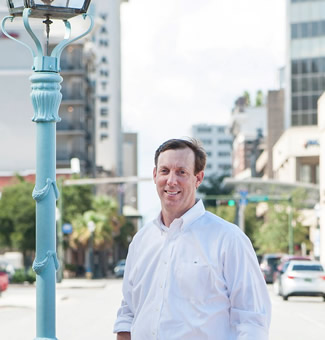 Andy's professional journey is similar to that taken by many MyPerfectFranchise candidates. He has logged long hours in a corporate environment, dreamed of a better quality of life and longed for a culture change before finding MyPerfectFranchise and becoming a successful franchisee.  He understands the risk and reward of leaving the safety of the corporate world for the franchise life as well as the satisfaction of helping candidates navigate this process with as much knowledge and confidence as possible.   
During Andy's career, he followed opportunities wherever they took him within the corporate world, living in five cities in a span of six years. In 2005, while in Cincinnati, he received a life-changing call. Having lost his mother to cancer in 2000, he discovered his father was diagnosed with leukemia. Andy realized the importance of family outweighed his career track and he moved back to Atlanta to be closer to his father.
In Atlanta he got back on the corporate track, helping to lead a successful division start up for a Belgium-based company that grew to over $10 million in revenue. During his tenure, he was responsible for managing and creating many national and global partnerships with companies such as Apple, Wal-Mart, HP, Kodak, Fuji, and Xerox.
Success came at a price, however, in the form of 12 plus hour work days that kept him from his wife and newborn. Andy was also traveling the globe and missing out on what he cherished most – time with his new family.  It was then he decided to take matters into his own hands and become a franchisee. Andy wanted a proven system that would allow him to use his natural skill set to build his business but didn't know what that was. That's when he was introduced to MyPerfectFranchise.
After going through the MyPerfectFranchise process, Andy became a regional developer for SYNERGY HomeCare for the Floribama (Florida panhandle and Alabama) Region in June 2012, taking it from the lowest ranked region to the 3rd largest in the system. He then opened his own SYNERGY HomeCare agency and was recognized as the #2 agency in the entire system for revenue growth in 2016. A year later, his agency won the most prestigious award in the system, Caregiver of the Year.  Currently, Andy's agency is ranked in the top 20 in the entire nation.  In Spring of 2018, Andy invested in another franchise system, Profile, and plans to open 10 locations throughout the Atlanta and Mobile, Alabama areas.  Due to Andy's knowledge of franchising, he was also named to the Inaugural Franchise Advisory Council for Profile.
Family is what drives Andy to succeed. He is the proud father of three children (Acker, Percy, and Catherine) and husband to his beautiful wife, Walker. The financial freedom he has gained through franchising has enabled him to take his kids to school, coach their sports teams, fish, and play tennis whenever he wants.
He can help candidates find their perfect fit – based on their specific skill sets, income requirements, and personality type. Let Andy help you find your dream, just as he found his.  Contact Andy today at by Email or at 404-973-9901.
Your opportunity is waiting.
Let me work with you to find the perfect franchise. Our process is backed by extensive research and proven success.
Freedom Starts Here